Postgraduate Research at the Sainsbury Laboratory Cambridge University (SLCU)
We welcome new PhD and Masters by Research students to join our multidisciplinary community of researchers.
The Sainsbury Laboratory Cambridge University (SLCU) has a highly collaborative and interdisciplinary research environment that draws on molecular, cellular, whole plant, computational, quantitative biology/mathematical biology and population biology approaches to investigate the regulatory mechanisms underlying plant growth and development.
As a research student you will be an integral member of one of SLCU's 12 research groups and have access to our state-of-the-art advanced microscopy facilities, plant growth chambers and glasshouse, tissue culture rooms, Level 2 containment facility and wet lab facilities in our award-winning building set in the middle of the beautiful Cambridge University Botanic Garden.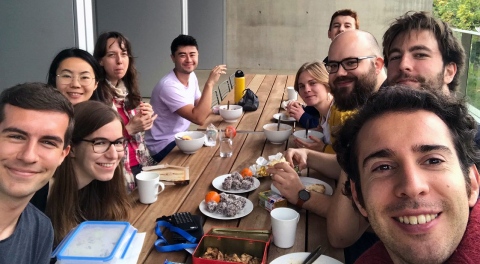 SLCU students enjoying lunch on the terrace overlooking the Cambridge University Botanic Garden.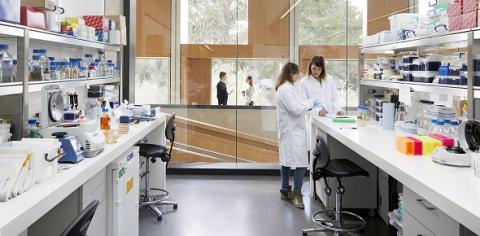 As a researcher you will have your own spacious bench space, incredible support from the Research Labs team and full access to a fantastic suite of technical equipment.

Public outreach is integral to what we do and there are lot's of different opportunities to participate.
Our environment
Our priority is to build a research environment where everyone feels free to share ideas, to take intellectual risks and to embrace interdisciplinary collaboration. You will be joining research students representing diverse fields, such as plant sciences, mathematics, physics, genetics and biochemistry.  The SLCU community provides a supportive and inclusive environment with a number of peer-to-peer groups, including a Writing Club, Coaching Group and Bioinformatics Group.  You will also have access to extensive career and personal development opportunities and receive financial support to attend conferences and additional training.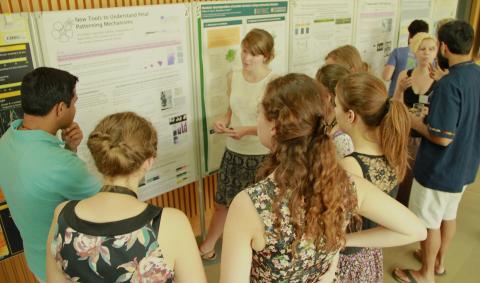 The SLCU Students Group organises a range of social and professional development activities that are aimed at fostering this supportive environment, including weekly sporting activities and board games nights, and monthly lunches. You will also have the opportunity to participate in public outreach and engagement activities like the Cambridge Science Festival and take on leadership roles as a representative of your Research Group on various committees and working groups that contribute to the direction of the SLCU.*

How to apply
A step-by-step guide to the online application process is detailed on the University of Cambridge's Graduate Admissions site. 
To apply for a postgraduate research course (PhD or Masters) under a supervisor at the SLCU you will need to:
Identify a potential supervisor (see below table listing potential supervisors at the SLCU).
Contact this supervisor to discuss possible projects. 
Discuss with your potential supervisor which Department to apply through (see list of Departments that most of our students are enrolled through at the bottom of this page).
Check that you meet the prerequisites by checking course details on the central University of Cambridge Graduate Admissions Course Directory.
Submit an online application via the Applicant Portal before the application deadline closes.
Postgraduate funding (scholarships)
If you are intending to apply for scholarship funding, please be aware that you may need to submit your application up to one year in advance of when you wish to commence study.
Applications for funding open in September and deadlines are at the beginning of December for the start of the course in the following October. USA students applying for Gates Cambridge Scholarships have a shorter time to apply within and must have applied by October for study that commences in October the following year.
In addition to the Postgraduate Funding Competition, more funding is available directly from the University's colleges and departments. For details, visit the University's Funding Search site.
Handy links
Find a supervisor at the SLCU
The below table lists the SLCU's Principal Investigators who can supervise PhD and Masters students. Please note that their availability to accept students will depend on what projects and funding they have available at a particular time.
Supervisors & Research Areas

yrjo.helariutta@slcu.cam.ac.uk
The Helariutta Group's research focuses on understanding the patterning processes involved in the development of plant vascular tissues.

alexander.jones@slcu.cam.ac.uk
The Jones Group investigates how plant hormones serve as signal integrators and master regulators of physiology and development.

The Jönsson Group develops computational morphodynamics models at the cellular level describing multicellular tissues such as the shoot apical meristem.

The Leyser Group's research is aimed at understanding the role of plant hormones in plant developmental plasticity, using the regulation of shoot branching as a model.

The Locke Group investigate gene expression dynamics in microbial and plant systems.

The Moyroud Group studies the mechanisms that account for pattern formation in petals at the molecular, cellular, biophysical and ecological levels.

francois.nedelec@slcu.cam.ac.uk
The Nédélec Group studies cell morphogenesis and developmental biology using synthetic and systems biology approaches, and computer modelling.

The Oldroyd Group studies plant-symbiotic interactions, with a focus on the signalling processes that allow the establishment of nitrogen-fixing and arbuscular mycorrhizal associations.

Dr Sarah Robinson
The Robinson Group uses a combination of novel biophysical tools, genetic manipulation and mathematical modelling to investigate how plant development (cell division and cell expansion) is controlled.

sebastian.schornack@slcu.cam.ac.uk 
The Schornack Group aims to characterise the extent to which beneficial and detrimental microorganisms employ similar plant developmental processes for colonisation.
chris.whitewoods@slcu.cam.ac.uk
The Whitewoods group studies how plants pattern themselves in three dimensions, using leaf air spaces and carnivorous plant traps as models
 *This page was redesigned by the Student Working Group as part of the SLCU Equality, Diversity and Inclusion Committee.