Dr Edwige Moyroud has been honoured by the Linnean Society of London with the 2018 Bicentenary Medal for her discoveries on the evolution and development of nanoscale architecture in flower petals.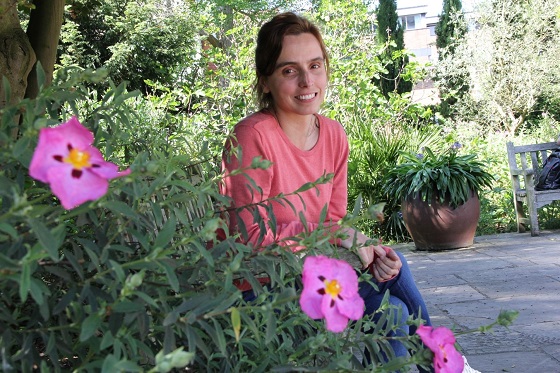 Dr Moyroud now leads a research group at the Sainsbury Laboratory Cambridge University (SLCU), which is studying how flowers form patterns on their petals. Her post-doctoral research, which was published in Nature last October, revealed that intricate nanostructures on the surface of petals act as a 'sat nav' for bees.
Linnean Society Bicentenary Medal
The Linnean Society of London is the world's oldest active biological society. It recognises and encourages work in biological fields through awarding annual medals and grants. The Society awards the Bicentenary Medal annually to a biologist under the age of 40 years in recognition of excellent work. It was first awarded in 1978 on the 200th anniversary of the death of Carl Linnaeus.
She identified that microscopic structures on petals of some flowers, such as hibiscus, manipulate light to produce a 'blue halo' or iridescent effect like the striations on a CD, which pollinators can easily see. In effect, plants are using patterns on their surface to communicate with bees.
"We are trying to understand how plants create these intricate patterns and how these patterns participate in plant/pollinator interactions," Dr Moyroud said.
"The colourful patterns on the petals of flowering plants are key to attracting pollinators and as such participate directly in the reproductive success of a species. These patterns are often highly elaborate and combine differences in pigmentation, cell shape and ornamentation of the cuticle (a waxy layer that protects plant surfaces) and their development is tightly regulated to generate neighbouring tissues with distinct properties."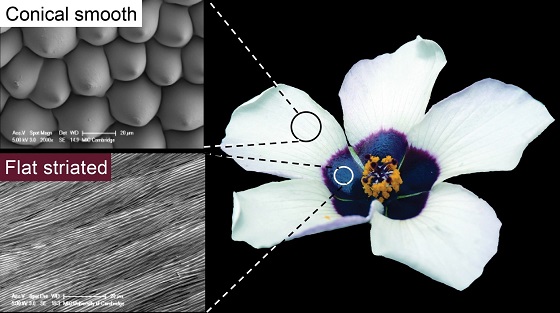 The research has brought together a highly interdisciplinary team of scientists from chemistry, physics, mathematics, evolutionary biology and animal behaviour. They have shown that this unusual phenomenon evolved independently in multiple flowering plant species with the "disordered" nanostructures all producing the same optical effect – shifting light waves to the blue-UV end of the spectrum, which is highly visible to pollinators such as bees.
"We have been using Venice mallow (Hibiscus trionum) as a model species, combining biomechanical modelling and optics with modern genetic analysis, live-tissue imaging and behavioural ecology to understand how and when these nanostructures develop," Dr Moyroud said.
"In Hibiscus, these nanostructures are one element of a broader developmental phenomenon, the bullseye pattern where the centre of the flower contrasts sharply with its periphery. At SLCU, my group is now looking at how the elements of the bullseye pattern are controlled and whether the mechanisms are common across different flowering plant species. We are studying how molecular events happening in cells can produce an organised pattern at the scale of the entire petal and to identify the source of the signalling that is controlling the patterning."
After graduating with her PhD from the University of Grenoble and the Ecole Normale Supérieure of Lyon (France), Dr Moyroud joined the lab of Professor Beverley Glover (University of Cambridge Department of Plant Sciences and Director of the Cambridge University Botanic Garden) in 2011.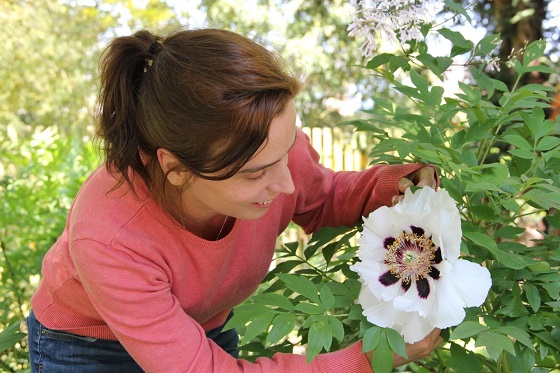 Professor Glover, who won the Linnean Society Bicentenary Medal eight years earlier in 2010, said: "I'm really delighted to see Edwige receive the Bicentenary Medal in recognition of her fantastic work in Grenoble and Cambridge on the evolution and development of flowers. This award is a wonderful achievement, richly deserved, and I'm very proud to have been able to work with Edwige and to see her career develop so successfully."