Task 1: Spot A Pollinator
Monday 1st June - Sunday 7th June 2020
Background
Nearly 90% of flowering plants depend on pollination by animals — mainly insects. In fact, a lot of the food we eat, including apples, cherries, chocolate and tomatoes, would not exist without pollinators.
Task
Look at the flowers in your garden or on a walk along your local street or in a park - can you spot a pollinator?
Record what animal the pollinator was by either taking a photo, drawing a picture or describe what type of animal it was.
Share your pollinator find with other PlantTaskmasters by posting on Twitter - remember to include @slcuplants and #PlantTaskmaster in your Tweet so that we can share your find.
Live chat with Sainsbury Laboratory scientists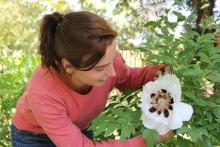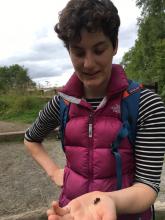 Join Alice Fairnie and Edwige Moyroud at 3pm (BST) on Sunday 7th June 2020 to share your findings and discuss how plants and pollinators communicate with each other.
The task for the coming week will be announced at the same time and so this is your opportunity to also ask any questions about the new task.
Read about the research that Alice and Edwige work on at the Sainsbury Laboratory.
Live Chat with a Scientist
Date: Sunday 7th June 2020
Time: 3pm (15:00 British Summer Time)