Leica DM1000-wifi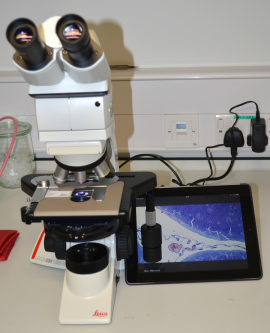 The Leica DM1000-wifi is a portable microscope offering standard brightfield or phase-contrast illumination with Kohler illumination that is simple to set up. Within the camera body is a 5MP colour wifi camera that streams images to your phone or tablet using the freely available Leica AirLab app. The app enables a variety of controls such as exposure, white balance, scale and other annotations. Battery packs enable the microscope to be used without an external power source.
Features:
Phase-contrast optics

Leica ICC50 W camera with wifi (requires free iOS/Android app), hdmi and usb outputs

SD card port

Stain-free, easy-clean stage.
Objectives:
4x, 10x, 20x, 40x, 100x oil immersion.