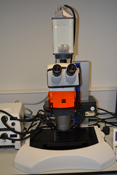 The V12 is designed for stereo-fluorescence imaging and can take images using the attached colour camera and PC. It contains a wide range of filter options for UV, CFP, GFP, YFP and Red fluorescent proteins. It also has a matched CFP-YFP FRET filter and a wide-emission GFP filter for viewing the green GFP signal over the red chlorophyll autofluorescence. Both focus and zoom is operated by a single sensitive joystick. Bright light can be provided from above, below (via transmitted base) or in combination.
The following objectives are available:
Neolumar S 0.8x with an 8cm working distance.
Neolumar S 1.5x capable of higher magnifications and with a 3cm working distance.