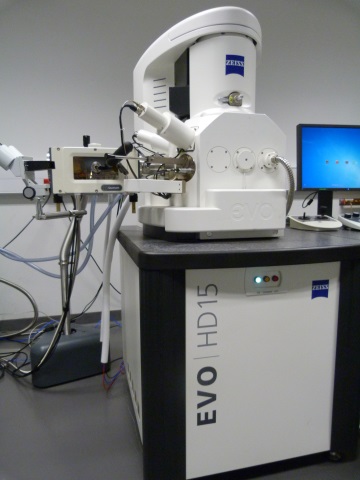 The EVO HD cryoSEM, built by Zeiss and Quorum technologies, allows high magnification imaging of
cryo-preserved tissue in full vacuum conditions. Magnifications routinely achieved are between 90x and 50,000x with maximum magnification of approximately 300,000x. Excellent contrast is maintained through the use of a built-in platinum sputter coater enabling user-defined coating on the nanometre scale. Fracture tools enable fractures through organs and cells revealing delicate structures in the cell walls and membranes. Sublimation protocols enable removal of surface ice or reduction of cytoplasm to reveal organelles. The time between plunge-freezing and imaging takes as little as 15 minutes.
Specifications:
Filament: LaB6
Detectors: SE, VPSE G3, EPSE, BSD
Stage: (standard SEM mode) 9 place stage or single specimen Debien Coolstage. For cryoSEM a cryo stage maintains samples at –145C with an anti contaminator maintained at –175C.
Cryo prep-deck: maintained at –145C with two fracture knives, platinum sputter coater with thickness monitor. Associated workstation for plunge freezing of fresh tissue with cryo-transfer under vacuum.
Access and technical support:
cryoSEM drop-in sessions, where users bring samples for cryo preparation and imaging by the facility manager, run from Wednesday 1pm to Friday evening. Please contact the facility manager to reserve a place.