Zeiss Axioimager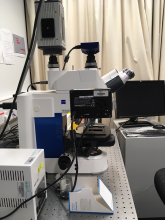 The Zeiss Axioimager.M2 is designed for high resolution brightfield, contrast (e.g DIC) and sensitive fluorescence imaging. It is fitted with 3 cameras: 16-64 megapixel colour and standard colour for brightfield plus a sensitive Hamamatsu 1k x 1k EMCCD for fluorescence. The EMCCD, when used in conjunction with the Zeiss fast acquisition module, is capable of speeds in excess of 50 frames per second with exposure times as low as milliseconds for weak signals and microseconds for strong signals.
Software:
Axiovision incorporating modules Inside4D, High Dynamic Range, Fast Acquisition and Physiology.
Axioimager filters for fluorescence imaging:
DAPI, FITC/GFP, DsRED, YFP, CFP, FRET
Objectives:
PlanApochromat 10x /0.3
PlanApochromat 20x/ 0.8
EC Plan-NeuFluar 40x/ 0.75
PlanApochromat 63x/ 1.4 (oil immersion)
EC Plan-NeuFluar 100x/ 1.3 (oil immersion)
A 60x/1.2 water immersion objective can be fitted upon request.